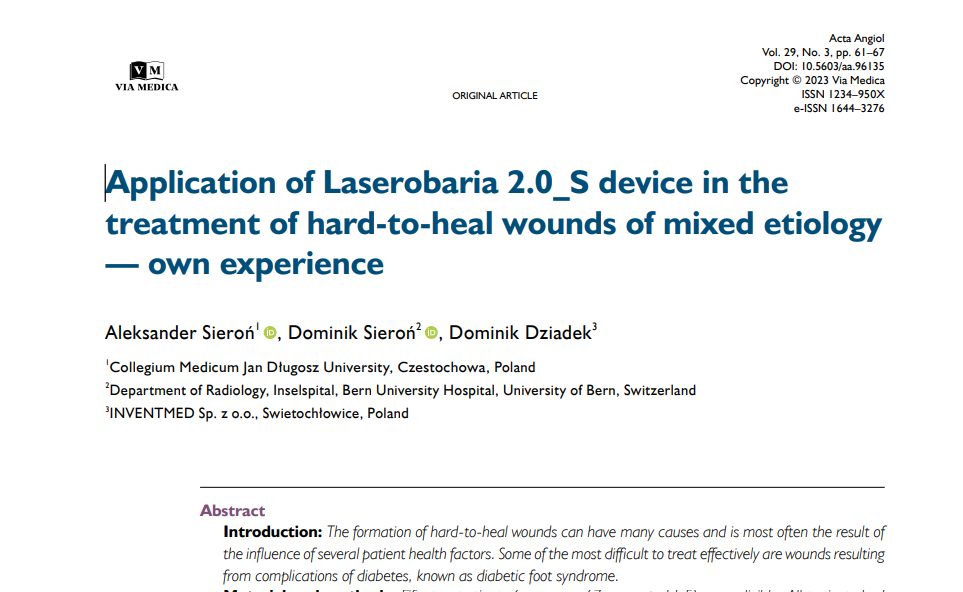 Another publication has appeared in a scientific journal regarding the possibility of using Laserobaria 2.0_S. This time it is a scientific article in the official journal of the Polish Angiological Society, and the Polish Society for Vascular Surgery "Acta Angiologica". This periodical is a quarterly publication in which there are publications by angiologists and vascular surgeons, as well as other doctors describing their experiences related to the treatment of vascular diseases.
Article titled "Application of Laserobaria 2.0_S device in the treatment of hard-to-heal wounds of mixed etiology – own experience" published in Vol. 29, No. 3, pp. 61–67. The research included there was intended to describe the experiences of Prof. Aleksander Sieroń, MD, from the treatment of patients who received Laserobaria 2.0_S therapy at the AlfaMedica Medical Center in Częstochowa, Poland. The presented analysis focused on describing cases of treatment of difficult-to-heal wounds in patients with complications of diabetes in the form of diabetic foot syndrome. The study involved 52 patients with chronic wounds of various etiologies on the lower limbs, for whom previous treatment had not yielded satisfactory results.
The research results showed, among other things, an analgesic effect in 60% of patients using alternating electromagnetic field therapy (according to the VAS scale). In turn, in patients for whom pharmacological pain relief did not bring significant improvement, the pain decreased from the third day of therapy. Studies also describe improvement of the wound condition in the form of granulation tissue formation in 40.5% of patients. The full text of the article is available here:
https://journals.viamedica.pl/acta_angiologica/article/view/96135/73365
We encourage you to read and we are waiting for further publications by doctors who report positive results from using Laserobaria 2.0_S therapy with their patients!